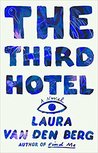 The Third Hotel
by
Laura van den Berg
My rating:
3 of 5 stars
I'm conflicted about THE THIRD HOTEL. Originally I was attracted by the setting in Havana, Cuba, and the author easily shares the feeling of being in that country through the pictures she paints with words. I do not believe it will have a wide audience but it will have a passionate following among sophisticated readers and cinephiles. It's a difficult book that keeps the reader off-center and unsure what is happening.
FIRST SENTENCE:
"What was she doing in Havana?"
THE STORY:
Recently widowed, Claire is attending the annual Festival of New Latin American Cinema in her husband's place. Unbelievably she spots Richard, a horror film scholar, outside a museum and begins pursuing him. How could he still be alive?
WHAT I THOUGHT:
A disturbing journey through grief and its fog. The writing is beautiful and the author created exactly the mood and world she wants for Claire and the reader.
BOTTOM LINE:
If you are a cinephile, you will recognize the names of horror films that are being scattered throughout. This is a unique book that may not appeal to all readers.

Hardcover:
224 pages
Publisher:
Farrar, Straus and Giroux (August 7, 2018)
ISBN-10:
0374168350

ISBN-13:
978-0374168353
DISCLAIMER:
I received a free e-copy of The Third Hotel: A Novel by Laura van den Berg from NetGalley/Farrar, Straus and Giroux for my honest review.